27 Feb 2015

Brother HL-L2340DW, Windows 7 can't see Airport Extreme wireless network

I was helping a friend install a new Brother HL-L2340DW laser printer today and I had a heck of a time getting the WIFI to work on it. All the Macs and my iPhone could see the wireless network just fine, but the printer and a Windows 7 laptop just didn't see it, even though they saw a bunch of other wireless networks from around the neighborhood. I discovered that they were using an Airport Extreme so I opened up Airport Utility on one of the Macs to see if the Airport Extreme was somehow hiding the network, even though I could see it on my iPhone. The network wasn't hidden but I found that the Radio Mode was set to 802.11a compatible.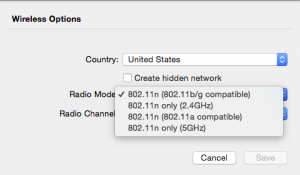 I changed it to 802.11b/g compatible and then everything worked. Once this was fixed, setting up the laser printer was a breeze.